One man can make a difference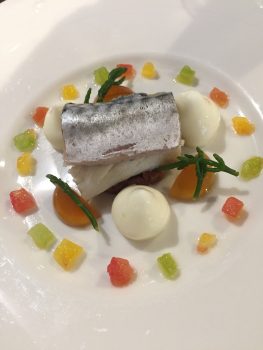 The port of Granville in Normandy, at the foot of the Cherbourg peninsula has been welcoming tourists for a very long time. Its famed carnival, now in its 145th year, brings tens of thousands of people from far and wide in early spring. Even more turn up in summer to sunbathe, swim or sail.
There is now another reason to visit. The town is undergoing a culinary revolution. A few years ago, a young chef, originally from nearby Avranches, opened a small restaurant. L'Edulis offers fine dining with local produce lovingly crafted by Jonathan Datin. To start with, business was not brisk. Two or three people at lunchtime was not uncommon. But the chef kept going. Weekday lunches of the highest quality and at reasonable prices, tasting menus with seven courses and consistent high standards resulted in an appearance in the latest Michelin guides. He has featured in regional media and appeared on TV, spreading the word about his restaurant and, of course, Granville.
Things are changing in the port. While Granville will always be famous for its iconic plates of 'fruits de mer' – lobster, crab, mussels and whelks straight from the dockside and served on a bed of ice – it is now becoming a hub of haute cuisine. Restaurant after restaurant has closed for renovations and opened again with new fixtures and fittings and, more importantly, creative menus. A burger joint near the beach has reinvented itself as a fine dining restaurant and even some of the pizzerias now have a touch of style.
Now, this could all be a coincidence. But I think not.