Through Savage Europe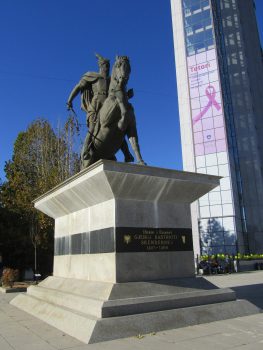 As part of my ambition to visit all the countries of Europe, I've lately been travelling through the former Yugoslavia. With hindsight, it seems impossible to believe these seven republics ever existed as part of one state as they have evolved in such different ways in the near-40 years since the death of Tito.
The title of this post is shamelessly stolen from Harry de Windt's 1907 travelogue 'being the narrative of a journey … throughout the Balkan States and European Russia'
A personal quest
Thirty years after the break up of Yugoslavia, I've enjoyed my trips in Slovenia, Croatia, Bosnia and Herzegovina, Serbia and Montenegro. This time I combined Kosovo and Macedonia.
"Where are you working?" asked the man on passport control in Pristina airport. He was convinced I was heading for an assignment with the EU, UN, KFOR or another organisation keeping the peace or supporting Kosovo's economic development and seemed surprised to hear I was on holiday.
Although tourists are rare, there's much to see in Kosovo's capital and its surroundings. I was the only visitor at the restored Turkish merchant's house where I was greeted by a surprised curator and at the city's museum, largely devoted to reasonably uncontroversial archaeology. The museum is one of two Habsburg buildings in town – the other houses the United Colors of Benetton.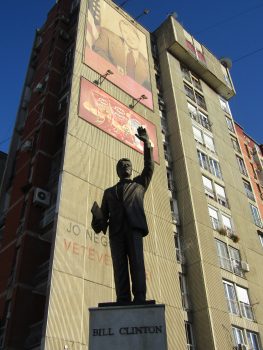 Interestingly, Hotel La Corte (£70 for two nights) was just a few yards from an impressive row of classy bars and restaurants popular with both metropolitan types and incomers, the pedestrianised main street named after Mother Teresa and the statue of another local hero – the 15th century Albanian nobleman and warrior Gjergi Skenderbeg. Bill Clinton, who ordered the NATO bombing of Serbia in 1999 at the end of the Kosovo War, is honoured with a statue and a street named after him.
Legacy of the conflict
The people of Kosovo are 92 per cent Albanian Moslems and anti-Serb feeling still run high in Pristina. My taxi driver described the current government in Belgrade as the same people who carried out the atrocities as we visited a 14th century monastery in a Serb enclave just outside the capital. Serbia still doesn't recognise Kosovo and the northern border can be a lawless place.
Is the place worth visiting? Definitely yes. Kosovans are curious and friendly, patriotic and optimistic, keen you should get the most from your visit although most said I should also have stayed at historic Prizren. I spent one evening in an excellent restaurant sitting near to an ambitious young couple. The man fled the country during the war, ended up in England and worked hard, gaining citizenship. They were home to celebrate a birthday and invited me to join them and their friends for a few drinks.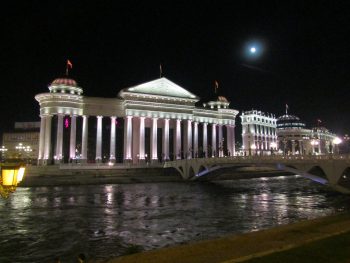 Across the mountains to Macedonia
Next day, I took the bus to Skopje, capital of Macedonia – a two hour €5.50 journey across the mountains in a packed coach.
Around 2012, the Government spent a lot of money turning drab Tito-era buildings into Romanesque fantasies. Giant statues of 'local hero' Alexander the Great, Emperor Justinian and idealised peasants were erected together with lions, columns and fountains, could the country be staking its claim to the name Macedonia through ambitious architecture?
A museum told the story of the 1963 earthquake. Badly-made buildings collapsed at 05:17 on 26 July, killing over a thousand people and leaving more than 200,000 homeless.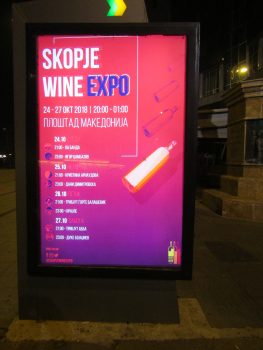 I was in town for the 2018 Skopje Wine Expo with eight producers selling their glasses to an enthusiastic crowd, aided by an Abba tribute band. And the following day, with more tourists around, I joined a tour to a 14th century monastery, Skopje's Millennium Cross high on Mount Vodno overlooking the town by cable car, Lake Matka, its hydroelectric dam and limestone caves. And the locals told me I should have also headed to historic Ohrid.
Seven republics
Seven former Yugoslav republics over several years. All very much worth visiting and all very different. I now turn my attentions to explore other countries to fulfil my ambition to visit every European state. Still on the list are Andorra, San Marino, Belorus and Moldova – with the Azores and Faroes distinct possibilities. But I know I'll be back in the Balkans before too long.
To close, here are thumbnail sketches of all the countries – with apologies for my sweeping generalisations. I can only write from my own experiences:
Slovenia: You were first to escape the post-Tito conflict, very European in style bordering Italy, Austria and Hungary as well as Croatia. Ljubliana is your tiny but beautiful capital, you also have an even shorter coastline, stunning mountains and the must-see Lake Bled. And you use the Euro*
Croatia: Sorry, I've only visited Zagreb! But I know of your amazing coastline and popularity with wise and frugal travellers. And I'm ashamed I've never been to Dubrovnik.
Montenegro: You have a short but magnificent coastline, now discovered by the Russians with another favourite cruise ship destination in Kotor. Inland are must-visit mountains and wildlife-haven Lake Skadar – shared with Albania.
Bosnia and Herzegovina: The war has left its mark. So much history, so many tears, your people deserve better. The world should visit and learn.
Serbia: Another troubled land, and your people are angry at being blamed for the 1990s conflict. Bombed buildings remain un-rebuilt to keep the memory alive. Along the Danube by 1950s train, Novi Sad in the Vojvodina offers new perspectives and impressive local wines
Kosovo: Independent from Serbia for ten years now but still struggling for recognition. You describe yourself as 'Europe's newest country with 1,000 years of Albanian heritage.'
Macedonia: Unhappy within your borders and fighting over your name with Greece. Your time will come.
* Kosovo and Montenegro also use the Euro but are not in the EuroZone